Ethos Exchange: Getting Gritty in Veterinary Medicine
November 11, 2020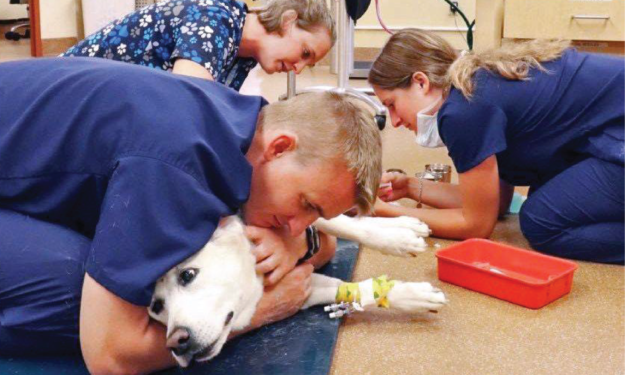 The healthcare industry, including veterinary medicine, is gritty by nature: requiring passion, perseverance, and commitment. Veterinary practice managers, supervisors, and other staff in leadership roles need to look inward on how to inspire and nurture this grit.
Welcome back to Ethos Exchange, our veterinary practice management series. With all the hurdles that 2020 has brought, we're bringing it back to our discussion from earlier this year: organizational grit.
What makes a person, team, or organization gritty? According to this Harvard Business Review article, it's passion and perseverance, a commitment to always improve, and remaining in love with what you do through it all. Having a gritty team is important in healthcare, particularly veterinary healthcare, because the field itself already attracts these passionate high-performers and is so dependent on teamwork.
Without grit, you simply won't make it in veterinary medicine.
In veterinary practice & organization management, we need to look inward on how to inspire and nurture this grit; it starts from the top with the leaders.
What Else Does Grit Mean in Veterinary Medicine?
Perhaps there are also other components of grit besides passion & perseverance we must first consider:
Integrity
Being whole and together in our goals for our hospitals.
Courage
Pursuing goals & opportunities that aren't the norm and getting through tough days.
Renewal
Remembering to take care of yourself and others.
Reflection
Keep asking yourself questions like: Is what I'm doing still valuable? Am I still working toward the top goal?
How do you Become Collectively Gritty?
Can a whole organization of veterinary hospitals, or even just one entire animal hospital, truly have all these gritty qualities and not just the individuals? It does start with the individuals – your techs, doctors, client care team. But people alone aren't enough.
As we said before, it starts at the top and takes integrity. Everyone's goals must align and have a solid foundation.
If your employees have different goals, their grit will be misaligned. For example, one gritty veterinarian is passionate about providing personalized, intimate care to every client & animal. Another is passionate about seeing as many appointments as possible during their shift to best serve the community. Their efforts, though both gritty, will be conflicting and the hospital won't be unified in its goal or its grit.
As leaders, we must clearly and concisely decide on what the hospital's topline goal is, put that first before any other goals, and continuously communicate that to our teams.
Veterinary Healthcare Goals
The article cites the Cleveland Clinic & Mayo Clinic as exemplary models of gritty organizations in healthcare. Their topline goal that makes them gritty: excellent patient care. How does this goal intersect with veterinary medicine?
Similar to pediatric medicine, there are two facets of "patient care" in veterinary medicine: the actual patient (animal) and the client (pet owner.) Providing excellent care to both can be challenging. Each animal must receive the best medical care (given financial constraints since we are not yet an insurance-driven industry) as well as comfort and love. Each pet owner must also receive the best client care in the form of efficient communication, options that fit their needs, good bedside manner, etc.
This difference is important to note when comparing human healthcare goals to veterinary healthcare goals.
Patient-First or Employee-First?
So if patient care is the topline goal as suggested by the truly gritty human healthcare companies, what about employee care? Can you have both as goals?
"It's an interesting conundrum. There are times that putting the patient first means you have to put your staff second. Balancing the needs of both is certainly a challenge." – Dr. Kari Severson, Medical Director & Emergency Veterinarian at WVRC.
How does it impact our teams knowing that they come second? First, messaging is important. Leadership must clearly communicate that patient care is the topline goal. Once the employees understand that, they're already passionate about their patients as inherent animal-lovers. So putting their patient first = putting their passion first. That may mean sometimes staying late, covering a weekend shift, etc. As the article states, sacrifice is part of that gritty character.
Finding Balance
Remember "renewal" as one of the potential components of grit? There's been a huge push for employee wellbeing recently in veterinary medicine (which is fantastic!) But as a result of this shift, many hospitals have strayed from the patient-first mentality.
Perhaps there can and should be two topline goals in veterinary hospitals:
"It needs to be an ongoing back-and-forth between the two… Sometimes you need to put the patient first, maybe you have to stay late one day. Sometimes we're going to put the employee's needs first… If you put the patients first all the time, you're going to have some really burnt out employees." – Rebecca Waugaman, Hospital Service Manager at Massachusetts Veterinary Referral Hospital.
It could be the nature of the veterinary field. Passion & perseverance can hurt, especially when paired with the challenges unique to our industry (including staffing issues, higher rates of mental illness and suicide.) Preventing burnout does help patient care, and cannot and should not be overlooked when goal-setting.
Finding Gritty Veterinary Professionals
From a recruiting perspective, recognizing a gritty person can be tricky.
Resumes these days are often lengthy. More and more young people are quicker to jump to different companies. But is their lack of commitment an assessment of their grit?
Perhaps, and perhaps not.
This may just be how applicants grow now. If their current job isn't opportunistic or paying enough, then they'll just find another company to work for. Does that mean they're not gritty enough just because they didn't stick it out and put in the time it take for a promotion or pay raise? Not necessarily. From the perspective of a younger person in the workforce, it's actually what's expected nowadays. If you're not switching jobs, especially when you're young, you're not taking advantage of all there is to offer out there.
We Must Provide Growth Options to our Veterinary Staff
This is important for veterinary practice managers and leaders to understand. If you have a clear path of opportunities and advancements available, your best gritty employees won't end up looking elsewhere for different jobs.
"Especially if the organization, like here at Ethos, has a tiered program for technicians where they can see a clear route of growth." Marissa Portillo, Senior Referral Relations Manager for Ethos Veterinary Health.
Along with growth opportunities, gritty companies are built on good decision-making. That doesn't mean simply top-down management.
"One of the things that has worked well at PESCM is that we have more lateral leadership. In other words, more people are involved in decision-making and we foster a culture of people making good decisions on the fly when they need to and feeling empowered to do so." Dr. Peter Bowie, Medical Director at PESCM.
Growth doesn't always look vertical – it's also about empowerment. Bringing in your key employees to decision-making can help nurture and build that grit. Those champions are so instrumental, especially in times of change or hardship.
Does a Veterinary Hospital or Group Need to be Gritty to be Successful?
If your topline goal is a gritty goal, such as excellent patient care, then yes. Long-term gritty goals will create long-term success.
The veterinary industry is not the same as the human healthcare industry; but gritty veterinary practices will thrive in the same way that gritty human hospitals do.
Takeaways
Align your hospital or company's topline goal and make sure everyone is on the same page. Some techs or doctors want want to provide customized patient care, be the friendliest, be the most advanced, or be the most available. But one goal must supersede the rest if you're going to be gritty.
Include your employees in the equation: they should be part of that decision-making process and their wellbeing should always be prioritized.
Don't knock the jumpers: when you're hiring, don't automatically eliminate candidates who have jumped around. If you can give them the opportunities they're looking for, they'll stick around and may just help you build that grit.
Thank you to Jared Katz, Talent Acquisition Manager, for leading this discussion!
Works Cited
Lee, Thomas H., and Angela L. Duckworth. "Organizational Grit." Harvard Business Review, 2018, pp. 98–105.
---
Written by RACHAEL GILLIS