Ethos Exchange: Should Veterinary Hospitals Care About Social Responsibility?
February 8, 2021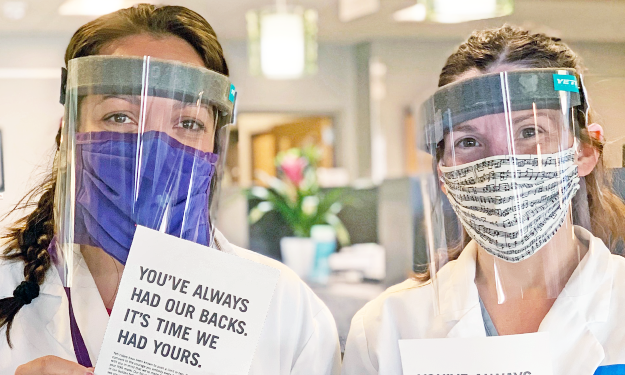 Doing good is good for business. What should veterinary practices know about social responsibility?
Welcome back to Ethos Exchange, our veterinary practice management series. Our first topic of 2021: corporate social responsibility.
This was an important and compelling discussion for us, and for the veterinary community as a whole. Corporate social responsibility (CSR) can raise matters of politics, passions, values, and emotions that are very different for every individual. Environmental sustainability, diversity and labor practices, philanthropy, community involvement; the list goes on! Deciding which causes to collectively invest in comes down to who you are, or who you want to be, as a company.
Whether you're a local animal clinic or a national organization of veterinary hospitals, as profit-driven businesses we do have the responsibility to decide and act on which causes we believe in, and what we'll do about them. Right?
Do we need to be socially responsible?
In short, we came to a unanimous yes.
Businesses (including our hospitals) don't live separate from everyone. They are as much a part of the communities they inhabit as the people. Furthermore, businesses have a much larger voice and platform than most individuals, so they can and should utilize those advantages.
"As an employer, we cannot turn a blind eye to the evolving changes in the world. We really need to step up for our communities and teams." – Lauren S., Senior People & Organization Practice Partner at Ethos.
Aside from ethics, it also defines the type of people you attract, from employees to clients. An animal hospital with a climate pledge on their website could be a selling point for an environmentally conscious pet owner looking for a new vet, or a Veterinary Technician looking for a new hospital to work at. You'll attract like-minded people to your business, which will further strengthen and nurture your values and culture.
CSR also leads to reduced turnover, increased productivity, higher employee engagement, and a lasting connection with clients. Doing good really is good for business.
As a leader, how do you measure social responsibility in your company?
It's not just "are we doing enough?" It's also "are we doing the right things, effectively?"
Your own employees
Employees who are passionate not just about their jobs, but about their company (and what their company stands for) are more likely to stay. Retention numbers could be telling you something. Especially in our recruiting-competitive veterinary industry, it's important to engage with your staff and make them care about the business, not just their work with animals.
An anonymous employee engagement survey can be a great way to find out what causes your people care about and what they'd like to see you do as a company.
Your reputation
Your reputation (online and offline) isn't just about your business dealings; it's about your perceived value. Social media and online reviews can help "take the temperature" of how people (employees & clients) feel about you. If people know they're supporting or working for a socially responsible company, you're more likely to have a more positive reputation.
Social media can also be a great place to discuss and display your CSR efforts outwardly. Not to brag, but to raise awareness!
Your recognitions
This is the real, tangible measurement. There are things as direct as sustainability certifications or Employer of Choice designation, to things as indirect as local business awards such as the annual Northshore Magazine Best of the North Shore (BONS) Awards. There are even veterinary-specific awards such as the AVMA Humane Award.
As an employee (prospective or current) or client, how can you tell if an organization is socially responsible?
So the executive team and leadership knows that they're incorporating CSR into their strategy, but how will a prospective candidate, current employee, or client judge you?
Consistency: if you're committed to an initiative long-term and not just trendy movements or changing up your strategy every few years, then it becomes a true core belief.
Action matches your pledge: you're not just committed to diversity in a flashy mission statement; you hire, train, invest, and live by it. You put actual resources (time, money, & education) into it.
Your employees feel (and say) the same: again, no one knows your company better than your own staff. They can, and will, call you out (hello, Glassdoor) if they don't see you following through.
Non-profit: some corporations (like Ethos) have a non-profit subsidiary to collaborate with. This shows that certain initiatives are so important in the bigger picture to the company that they warrant a longer-term investment and dedicated attention. Perhaps it's a rescue, a pets in need charity, or spay/neuter initiative.
Acknowledging the past: a perfect track record is unlikely. If a company hasn't done enough, didn't fulfill their promises, or otherwise has a history of poor CSR, they should acknowledge it, not hide from it or make excuses.
Authenticity: beware the pitfalls of cause marketing. Tactics like greenwashing (investing more in marketing that you're green than in the actual business practices that are green) can come across as inauthentic. It also comes back to acknowledging your faults and moving forward:

"I would tend to give more credence to a company that has successfully managed to change their culture for the better, than to a novel company setting out with that mission and vision. The acknowledgment of shortcomings, coupled with the energy, effort, and financial investment needed to facilitate change successfully can be a more challenging endeavor and a more daunting and applaudable undertaking than simply hopping into the mainstream of societal demand for community responsibility." Brooke D., Hospital Service Manager at Wheat Ridge Animal Hospital.
Developing our own social responsibility initiatives
As a young organization, Ethos is still deciding who we are and how to make a difference. We do know the values that are important to us: taking care of each other, continuous growth, and being a responsible employer and part of our planet.
Looking inward, we aren't perfect, but we are looking forward to progress with current and ongoing initiatives:
COVID response:
Paying over $900,000 in COVID-19 PTO to keep potentially contagious staff home without sacrificing their own PTO.
Adjusting workflows to keep clients more distanced from our teams and providing working-from-home options.
Flexibility and support in schedule adjustments and childcare sharing.
Rewarding our teams with over $2.6M of recognition bonuses.
Partnering with non-profits
Best Buddies: providing competitive and challenging work opportunities for people with intellectual and development disabilities.
CARA: hiring people returning to the workforce after long employment gaps.
National Forest Foundation: each year we will plant 5 trees for every Ethos team member, resulting in 10,000+ trees to help rebuild our forests.
Our own non-profit
Ethos Discovery: non-profit research organization for cancer treatment in dogs and cats.
Continuing Education:
Partnership with Purdue to provide continuing education for our Vet Techs at a discounted rate, scholarships, and multiple career paths.
Key Takeaways & Next Steps
Your actions should match your words: authenticity matters and don't make promises you can't or won't follow through on.
Query your staff: you should care about what they care about and vice versa.
Decide if you care enough about any cause, and if you don't, why not? Think about your story and your place on this planet. What legacy is your company leaving behind other than profitable gain?
Thank you to our anonymous contributor who suggested this very important and timely topic to discuss.
---
Written by RACHAEL GILLIS