Diagnosis, Treatment and Future Study Direction in Dogs with Intestinal Dysbiosis
September 22, 2020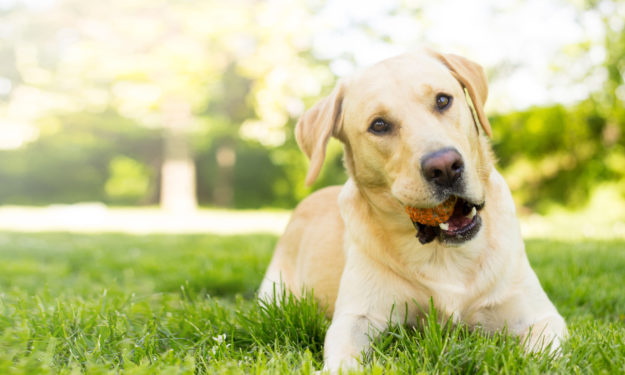 How Do We Diagnose Intestinal Dysbiosis in Dogs?
A patient with intestinal dysbiosis can have decreased appetite, diarrhea, vomiting, or a variety of other clinical signs.  They can also be asymptomatic.  One thing to remember is that in patients that are symptomatic with intestinal dysbiosis, often there is concurrent gastrointestinal disease (IBD, diet responsive enteropathy or other disease).  For diagnosis currently there is an available stool test provided by the Texas A&M GI Laboratory called the dysbiosis index.  This fecal test evaluates 16s rRNA sequencing of bacteria.  In a study published in 20171, they validated the test using samples from 95 healthy dogs as the normal population and 106 dogs with chronic enteropathy as the population with disease.  A negative index indicates normal microbiota and a positive index indicates dysbiosis.  The results are equivocal if the value is between 0 and 2.  Future studies are recommended to look at evaluation of next generation DNA and RNA sequencing to evaluate the full genome of the intestinal microbiota.  We suspect that what may be more valuable than assessing which bacteria are present would be using metabolomics or immune system profiling to assess the function of normal microbiota and function in patients with dysbiosis.  We currently have studies underway to investigate this.
How Do We Treat Intestinal Dysbiosis in Dogs?
Every patient is different and there is not a universal treatment protocol for every patient.  The treatment usually involves a combination of diet change, digestive enzymes, bacterial probiotics, and sometimes includes the addition of antibiotics (tylosin or metronidazole typically) for a short period of time, or the addition of a yeast probiotic such as Saccharomyces boulardii.
What is the Best Diet to Establish a Healthy Microbiome?
The diet should ideally be made from whole foods, with minimal or no processed food.  The ingredients should be high quality ingredients, ideally organic whenever possible in order to minimize pesticides.  The diet should contain no gluten, and minimal preservatives and other additives.  The diet should contain an increased amount of prebiotic fiber.  Dietary prebiotics are defined as selectively fermented ingredients that result in specific changes in the composition and/or activity of the gastrointestinal microbiota, thus conferring benefit(s) upon host health.  Some examples of high quality prebiotics include pumpkin, beets, potatoes, apples, and jicama. The diet may contain probiotics but that is not a necessity.
What are the Best Probiotics Available for Dogs?
There are many probiotic options to choose from on the market.  It is recommended to use probiotics that are at least third party tested and inspected for quality and potency.
There is minimal regulation or oversight with regards to efficacy, safety, and quality control of manufacturing.  Typically, regulation is focused on the legitimacy of any health claims that are made.  For these reasons, caution should be exercised when using over the counter probiotics that have not gone through clinical trials.  There are a few probiotics that have been clinically studied in dogs and may be useful for patients with intestinal dysbiosis.  They have been evaluated in patients with inflammatory bowel disease (IBD), chronic diarrhea, and other disease states.  Visbiome is one example, and this product is composed of 8 bacterial strains and has been tested in over 70 human clinical trials.  This probiotic is well tolerated in dogs and has been tested and found effective in patients with IBD in multiple canine clinical trials2,3.  Proviable Forte is another product that has been studied.  It contains 7 beneficial bacterial strains and has been shown to help ameliorate antibiotic-associated gastrointestinal signs in dogs, in combination with Saccharomyces boulardii.4  Saccharomyces boulardii is a yeast probiotic that is indicated for treatment of acute and chronic enteropathies in humans.  There are a variety of products on the market containing this yeast probiotic.  Saccharomyces boulardii was found to be an effective treatment in dogs with chronic enteropathies in a double-blinded, placebo-controlled study in dogs with IBD.5
In this study referenced, the investigators evaluated 13 dogs with biopsy confirmed IBD.  The dogs received either Saccharomyces boulardii or placebo.  Clinical activity index, stool frequency, stool consistency and body condition score improved significantly in dogs with chronic enteropathy receiving S. boulardii versus the placebo.
Detoxification Symptoms During Therapy
When patients undergo treatment for intestinal dysbiosis, there are symptoms that owners may notice as the patient undergoes detoxification of their gastrointestinal tract:
PU/PD (increased water intake and urination)
Increased flatulence
Increased stool production
Soft stool or diarrhea
What are the Indications for FMT (Fecal Microbiota Transplant)?
Fecal microbiota transplant is a treatment for intestinal dysbiosis but may not be a first line therapy.  It is indicated for the treatment of Clostridium dificile infection in humans.  There was a study published evaluating the use of FMT in puppies with parvovirus infection6  In this study, they showed that treatment with FMT was associated with faster resolution of diarrhea and shorter hospitalization time compared to standard treatment. Mortality rate was also lower in puppies treated with FMT.  If a veterinarian is considering treating a patient with FMT, the first step is finding the right donor.  When screening the donor stool for parasites it is recommended to test for enteropathogens: C. difficile, parvovirus, Clostridium perfringens cpe and netF genes, C. jejuni, Fecal (Salmonella & Campylobacter) Culture, Fecal Direct Smear, Fecal Ova & Parasites, Fecal Giardia & Cryptosporidium, and submitting a dysbiosis index test.
What is The Ethos Discovery Intestinal Dysbiosis Program?
At Ethos Discovery, our intestinal dysbiosis program is currently underway with active clinical trials.  We have a long list of potential clinical trials that we will be pursuing, depending on funding and the results of the initial clinical trials.  Here is a list of some of the questions that we propose to answer through our clinical trials:
How do we measure intestinal dysbiosis in dogs and cats?
Dysbiosis index vs. next generation sequencing vs. metabolomics or immune system profiling.  Is the ideal test a stool test, a serum biomarker, or a combination of tests?
Intestinal dysbiosis and association with systemic disease.
We are currently evaluating patients with osteosarcoma, hemangiosarcoma, and plan to evaluate patients with lymphoma, melanoma, IMHA, ITP, Diabetes mellitus, atopy, idiopathic epilepsy, and other systemic diseases.
Does intestinal dysbiosis cause or contribute to development of systemic disease?
Does cultivating a healthy microbiome contribute to longevity?
Therapeutic trials?
How do we properly treat dysbiosis?
What is the best diet to promote a healthy microbiome?
Does treatment of dysbiosis improve outcomes in cancer patients and in patients with other diseases?
Can dogs be used as a model for studying human disease? We have a collaboration with pediatric oncologists evaluating if canine sarcoma can be used as a model for pediatric human sarcoma.
---
This article was originally published on our sister site: Ethos Discovery under the title "Diagnosis, Treatment and Future Study Direction in Dogs with Intestinal Dysbiosis". To learn more about Ethos Discovery, please visit the website.
References:
Alshawaqfeh, M., Wajid, B., Minamoto, Y., Markel, M., Lidbury, J., Steiner, J., Serpedin, E., Suchodolski, J., 2017. A dysbiosis index to assess microbial changes in fecal samples of dogs with chronic inflammatory enteropathy. FEMS Microbiology Ecology.. doi:10.1093/femsec/fix136
White, R., Atherly, T., Guard, B., Rossi, G., Wang, C., Mosher, C., Webb, C., Hill, S., Ackermann, M., Sciabarra, P., Allenspach, K., Suchodolski, J., Jergens, A.E., 2017. Randomized, controlled trial evaluating the effect of multi-strain probiotic on the mucosal microbiota in canine idiopathic inflammatory bowel disease. Gut Microbes.. doi:10.1080/19490976.2017.1334754
Rossi, G., Pengo, G., Caldin, M., Palumbo Piccionello, A., Steiner, J.M., Cohen, N.D., Jergens, A.E., Suchodolski, J.S., 2014. Comparison of Microbiological, Histological, and Immunomodulatory Parameters in Response to Treatment with Either Combination Therapy with Prednisone and Metronidazole or Probiotic VSL#3 Strains in Dogs with Idiopathic Inflammatory Bowel Disease. PLoS ONE.. doi:10.1371/journal.pone.0094699
Whittemore, J.C., Moyers, T.D., Price, J.M., 2019. Randomized, controlled, crossover trial of prevention of antibiotic‐induced gastrointestinal signs using a synbiotic mixture in healthy research dogs. Journal of Veterinary Internal Medicine.. doi:10.1111/jvim.15553
D'Angelo, S., Fracassi, F., Bresciani, F., Galuppi, R., Diana, A., Linta, N., Bettini, G., Morini, M., Pietra, M., 2018. Effect of Saccharomyces boulardii in dogs with chronic enteropathies: double-blinded, placebo-controlled study. Veterinary Record.. doi:10.1136/vr.104241
Pereira GQ, Gomes LA, Santos IS, Alfieri AF, Weese JS, Costa MC. Fecal microbiota transplantation in puppies with canine parvovirus infection. J Vet Intern Med. 2018;32(2):707-711. doi:10.1111/jvim.15072