Thyroid Cancer In Dogs: Signs, Diagnosis & Treatment
December 12, 2016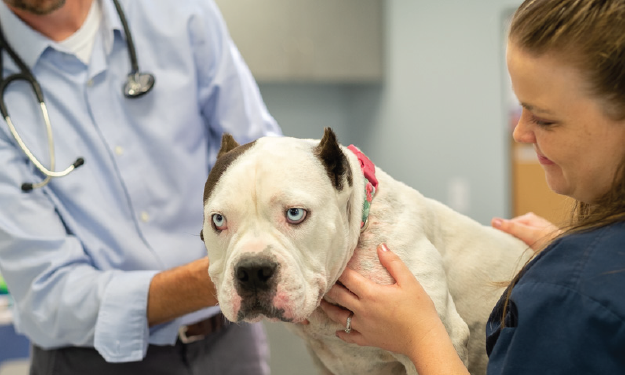 What are Thyroid Tumors?
Thyroid tumors originate from the thyroid gland tissue in the neck. Nearly all thyroid tumors are carcinomas. Up to 1/3 of dogs may have bilateral thyroid tumors. Infrequently, an "ectopic" thyroid tumor may arise from tissue in an unusual location such as the chest. The thyroid gland is responsible for secreting thyroid hormone, which serves an important function in regulating metabolism. Only a small percentage (10%) of thyroid tumors actually secrete functional thyroid hormone and are therefore hyperthyroid. Thyroid tumors are sometimes small and freely movable but may be large, invasive, and fixed to the surrounding tissues.
What are the Symptoms?
The most common sign of this tumor is a lump in the neck. In some instances, dogs may have voice change, difficulty swallowing, or harsh, rapid breathing. Hyperthyroid pets may lose weight and show coat changes; while hypothyroid pets may be lethargic, gain weight and show coat changes.
How is it Diagnosed?
Diagnosis can be made by a fine needle aspirate or a biopsy. These tumors can have extensive blood supply, which can preclude identification of cancer cells in some samples and makes biopsy of them carry an increased risk of hemorrhage. Ultrasound and/or advanced imaging (CT/MRI) is often helpful in evaluating the degree of invasiveness and potential for surgical removal. A CT scan can also be helpful for evaluating lymph nodes which can be involved and for radiation treatment planning.
Once a thyroid tumor has been diagnosed, bloodwork (including thyroid hormone levels) and imaging of the lungs are recommended to evaluate for possible metastases (spread of tumor).
What are the Treatment Options?
Surgery: Surgery is recommended for dogs with mobile thyroid tumors, and those with limited invasion. Surgical removal is not recommended for dogs with deeply invasive or fixed thyroid carcinomas due to inability to remove all of the tumor, and high rates of morbidity/mortality. In some instances, it is not possible to determine preoperatively if a thyroid tumor is resectable.
Radiation Therapy: Radiation therapy is recommended for dogs with fixed and invasive thyroid tumors and thyroid tumors that are incompletely removed surgically. Thyroid tumors usually respond slowly to radiation over many months and durable tumor control is achieved in most cases. In some instances, radiation may be useful in making previously invasive thyroid tumors more amenable to surgery.
Radioactive Iodine Therapy: Iodine-131 can be given systemically to treat thyroid tumors, this is primarily utilized in cats. There are relatively few facilities that can perform this, and there is limited data on the effectiveness of this approach in dogs.
Chemotherapy: Chemotherapy may be useful in dogs with thyroid tumors due to the high risk for developing metastasis, particularly for larger, bilateral, or invasive tumors. Response rates of 30-50% have been observed. There are several approaches or options in the treatment of thyroid tumors with chemotherapy which can be discussed with your oncologist.
What is the Prognosis?
The prognosis for dogs with thyroid tumors is generally good with appropriate therapy. Untreated, dogs with malignant thyroid tumors have reported an average survival time of 3 months.
Dogs with small, unilateral thyroid tumors are often treated effectively with surgery with reported median survival times of over 3 years.
For dogs with fixed thyroid tumors, it is reported that 25% survive 1-year post-surgery. With radiation therapy, there are reported median survival times of >2 years. Interestingly, long survival times are seen even in dogs that have evidence of metastasis to the lungs at diagnosis.
What Course(s) of Radiation Are Recommended?
Definitive radiation therapy involves daily treatments for 3-4 weeks given on Monday through Friday. This is our recommended protocol for most patients. Palliative courses with several weekly doses of radiation may be an appropriate alternative, particularly for patients with larger tumors, sometimes in combination with chemotherapy.
What Side Effects May Be Seen with Radiation Therapy of Thyroid Tumors?
Pets develop radiation dermatitis and mucositis towards week 3-4 after starting treatment. Side effects are limited to the treatment field which depends on the extent of the tumor. Your pet may be prescribed antibiotics and/or anti-inflammatory medications to manage these reactions. Analgesics can also be prescribed if needed. Your pet should be encouraged to eat soft, moist foods during the treatment and recovery period. Acute radiation effects usually get progressively worse until about 2 weeks after completion of therapy and then heal over the next 2-4 weeks.
As acute reactions heal, the skin may lose hair or pigmentation. With any radiation protocol there is a low (<5%) risk of serious late effects which can have complications due to treatment typically seen 1-5+ years after treatment. Your radiation oncologist will discuss any specific concerns regarding radiation side effects based on your pet's treatment field.