NSAIDs for Dogs & Cats
December 12, 2016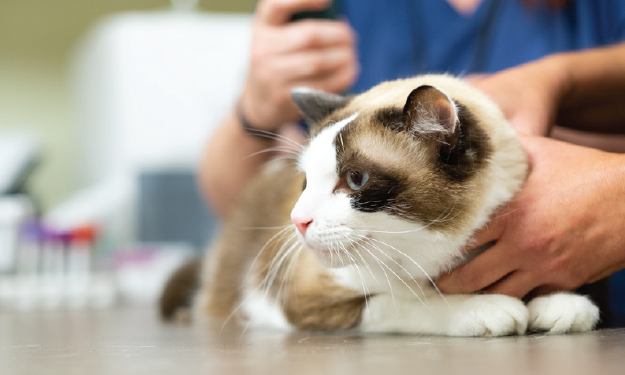 What are NSAIDs?
Non-steroidal anti-inflammatories (NSAIDs) are a class of drugs used primarily to treat pain and inflammation. This is done by inhibiting prostaglandin (substances involved in the inflammatory response) synthesis through either, or both, COX-1 and COX-2 enzymes. NSAIDs are commonly prescribed for post-surgery, injury, and arthritis.
Why are NSAIDs Recommended for your Pet?
In veterinary oncology patients, NSAIDs are often used to relieve pain and decrease inflammation associated with the tumor and/or disease; they can also be used as a cancer treatment. Certain types of cancer cells are known to increase prostaglandins through the overproduction of COX-2 enzymes. Using certain NSAIDs to block the COX-2 enzyme and decrease the amount of prostaglandin produced may slow the growth and metastasis of these cancer cells. The common canine and feline cancers that benefit from NSAID therapy include: transitional cell carcinoma of the urinary bladder, prostatic adenocarcinoma, colorectal tumors, renal cell carcinoma, osteosarcoma, oral melanoma, oral and cutaneous squamous cell carcinoma, nasal carcinoma, and mammary tumors.
It is important to remember that NSAIDs should never be taken with a steroid as this can cause dangerous intestinal and gastric bleeding. Be sure to tell your doctor all medications your pet is receiving. Common steroids include prednisone, prednisolone, methylprednisolone (Medrol), budesonide, and dexamethasone and Depo-Medrol injections.
Commonly Used NSAIDs:
Rimadyl/Novox (carprofen)
Previcox (firocoxib)
Deramaxx (deracoxib)
Metacam (meloxicam)
Piroxicam
Aspirin (Not commonly used for cancer treatment)
What are the Side Effects?
Side effects associated with NSAID therapy are generally mild but can include decreased appetite, vomiting, diarrhea, black stool, and blood in the stool. These signs are secondary to gastrointestinal irritation and ulceration from the NSAID. It is common for your pet to also be receiving Pepcid (famotidine) or Prilosec (omeprazole) as an aid to prevent any gastrointestinal irritation while receiving this medication.
Rarely, liver and kidney values may be elevated secondary to NSAIDs, and therefore it is essential to have routine bloodwork (minimally every 3 months preferred).
*If your pet is receiving NSAIDs and you notice dark tarry stools, bloody diarrhea, or vomiting, please stop the medication and contact your pet's oncologist or veterinarian immediately.