Veterinary Technician Careers
March 22, 2021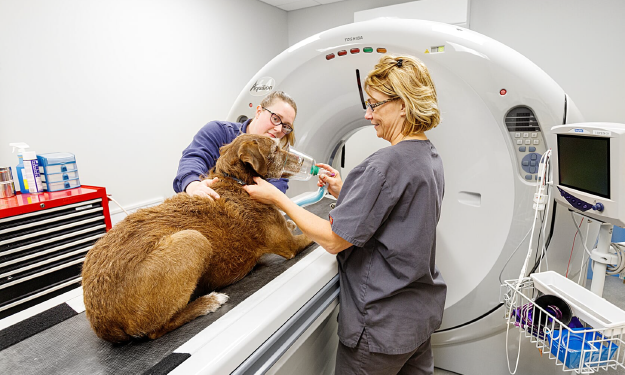 The Veterinary Technician career is not an easy one, but it is rewarding, especially at Ethos Veterinary Health.
At Ethos, we want our Veterinary Technicians to grow with us. You will be challenged, and inspired, as you care for pets who truly need you in our ER & specialty departments. We provide the opportunities and support so that you can take you career to the next level.
At our 24-hour emergency and specialty veterinary hospitals, we offer daytime and overnight shifts as well as per diem and part-time options. We also hire varying levels of technicians, whether it be entry-level, RVT/LVT/CVT, or Veterinary Technician Specialists. You will work among highly skilled technicians and doctors to guide you, and a supportive leadership team to champion you.
Depending on which of our 23 hospitals you're working, you'll also have the opportunity to cross-train in multiple departments and pick up shifts at nearby sister locations.
When you join Ethos, you will get:
Modern facilities with the latest technologies.
Yearly continuing education and uniform allowance.
Scholarship opportunities through our Purdue-VetBloom Online Veterinary Nursing Program.
Access to VetBloom, our online learning platform.
A true career path with opportunities to advance your technical skills through Level 1-4 protocols in our Veterinary Technician Specialist mentorship program.
Leadership, supervisor, and management opportunities.
Veterinary Technician Appreciation Week & other team celebrations.
Access to our team of Veterinary Social Workers.
Opportunity to advance other professional skills, such as joining our Marketing Content Liaison program.
Access to League, a complete wellness platform to help our teams reach their health goals.
Sign-on bonuses available for some positions.
Veterinary Assistants
We offer a scholarship eligible AVMA approved Veterinary Assistant Program to help get your foot in the door. This program is perfect for beginners looking to break into the veterinary industry. You will have hands-on opportunities to learn and train with potential job opportunities upon successful completion. Learn more here.
Land Your Veterinary Technician Career Today
To search for open technician positions at an Ethos hospital near you, please visit our Find a Job page and search by hospital name, title, keyword, or state.