Skunk Odor Remover Recipe
July 24, 2019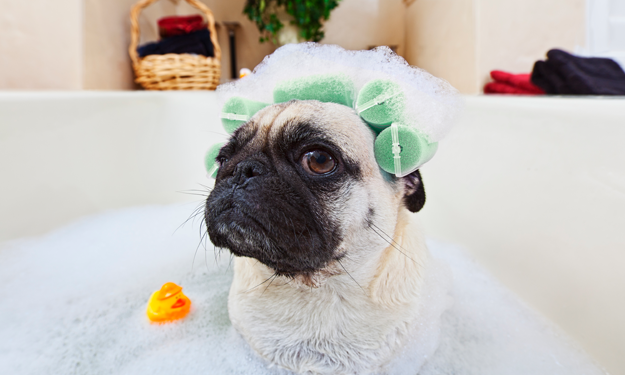 Your pet just got skunked! Don't panic … and don't let them run loose in the house either (if you can help it), they'll rub up against every bit of furniture you own (personal experience).
Here's what you'll need, and the steps to follow.  Depending on how badly your pet (hopefully it's your dog and not your cat!) was skunked, you may need to wash him or her a few times.  Later, when they get wet, you'll smell it again, but this is the recipe that gets the best results. There are also shampoos you can buy at the store, I have never tested them myself, because this recipe works consistently.  Some groomers will also accept skunked pets, but not all, so definitely call first.
Notes
Avoid contact with your pet's eyes. If your pet's eyes are red and swollen, contact your vet.
Don't premix the recipe. Keep the ingredients separate until you need them.
Double or triple the recipe for larger dogs. This amount should be enough for a small – medium sized dog or cat.
Ingredients
1Qt. 3% Hydrogen Peroxide
1/4 cup Baking Soda
2 tsp Dawn Liquid Dish Soap.
Steps:
Do NOT spray your dog or cat with water yet.
Mix the above ingredients together. It will fizz.
Soak your dog or cat's fur with the mix and let it soak in for about 20 minutes. Keep the mix out of your pet's eyes. Use a sponge to clean his or her head and around their eyes.
Knead the solution into the fur, be sure to get every part of your pet with the mixture.
The solution will need to soak in to neutralize the odor, wait about 20 minutes before rinsing it off.
After about 20 minutes rinse thoroughly with water.