Why Ferrets Are Illegal in California & Hawaii
December 16, 2020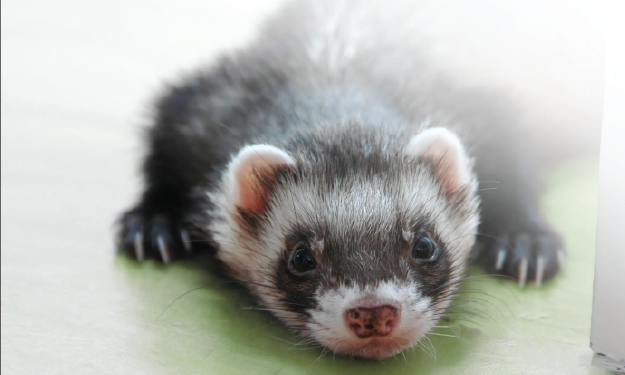 What are small, furry, and known to be one of the most controversial pets across the country? You guessed it, ferrets! Ferrets were domesticated about 2,500 years ago and are still considered to be half wild. This continues to be factor in why ferrets are still illegal in some states in U.S.
Why Are Ferrets Illegal
There are many reasons argued for why ferrets are banned. These include concerns about biting, aggression, and how they tend to colonize if they run away, which ends up threatening native wildlife. They are known to be incredibly high maintenance pets. Having a ferret as a pet can essentially be like having a toddler. If they are not taken care of properly or provided with enough room to properly habitat with a lot of bedding and enrichment, they can become very destructive. These animals are also known to easily revert back to their feral state, thus potentially becoming a carrier of rabies.
Where Are Ferrets Illegal
There are two states where ferrets are completely illegal: California and Hawaii. That means they are legal in the remaining 48 states, but local laws (depending on city or county) can choose to follow their state guidelines or provide a stricter law. New York City and Washington D.C. decided to act upon that and ban ferrets completely in their cities.
Therefore, these are currently the states/cities where ferrets are illegal as pets:
California
Hawaii
New York City
Washington D.C.
In some states where ferrets are not technically illegal, you do still need a license in order to keep them. You have to meet certain requirements before purchasing a ferret, and if you do not meet them, you cannot own one.
Be sure to get specific and up-to-date information from your local government or animal control board if you're interested in owning a ferret!
Rescue Ferrets
As ferrets are illegal in California, there are ferret rescues that these little guys can go to in order to rehome in a state where they are legal.
One of our Ethos hospitals in California, Atlantic Street Veterinary Hospital Pet Emergency Center Exchange, had a rescue situation of their own! A ferret had been found running around in Roseville, CA, and was brought in by a Good Samaritan. When the ferret arrived, the team noticed how skinny he was and that he was displaying hair loss. This is better known as alopecia, which is something that can be normal and seasonal for Ferrets. It can be a sign of adrenal disease. Upon further examination, the team discovered two tattooed dots on his left ear. Typically, when ferrets are tatted on their ear, they are from a Marshall ferret farm. (One dot indicates that they were neutered/spayed. The other tattooed dot indicates that their scent glands have been removed.) He was not microchipped, so our team was unable to find his owner, but he ended up in a very loving home where he gets to play with other furry friends!
---
Written by MELISSA DEROO